Twenty-two Year 5 and 6 students recently gave up a day of eating to raise money for charities that are supported by the Justice Squad, a socially minded group of young leaders from St Gerard Majella primary school in Cairns. All students stopped eating for ten hours from 7:30 am till 5:30 pm, not an easy task for hungry, growing, young children!
Together the students raised an amazing $1,400. An extraordinary effort!
A HUGE THANK YOU goes out to all the students' parents, grandparents, aunties, uncles, neighbours and friends. It was all because of your generous hearts that the students raised so much. The justice squad of St Gerard Majella primary school is a special group of young leaders, who belive in a better world for all people - and are willing to make that happen! They have partnered with Salesian Missions on numerous occasions now, making real change for some of the world's poorest!
It means a lot that some grassroots organisations benefit from the students' wonderful work. $1000 will be sent to The Australian Salesian Missions Overseas Aid Fund, to be used to assist in their efforts offering COVID-relief in India. We have already sent $500 to The Salesians for the East Timor Luncheon Appeal this year, but the tragedy of Covid unfolding in India is heart breaking.
This money will assist the Nuns and Brothers in India care for the many people desperately in need. In New Delhi they have so far delivered thousands and thousands of grocery packages to families. Financial assistance is also being given to hundreds of displaced people who are in dire need.
Additionally, the nuns and brothers are sourcing oxygen tanks and beds for five local charities who are providing free services to the needy. The lack of equipment is the cause of so many deaths, so their efforts in providing more tanks will improve the number of people who survive Covid. There are a number of Australian donors helping this vital work to continue. We are happy to join them in helping the poorest and most vulnerable in the world.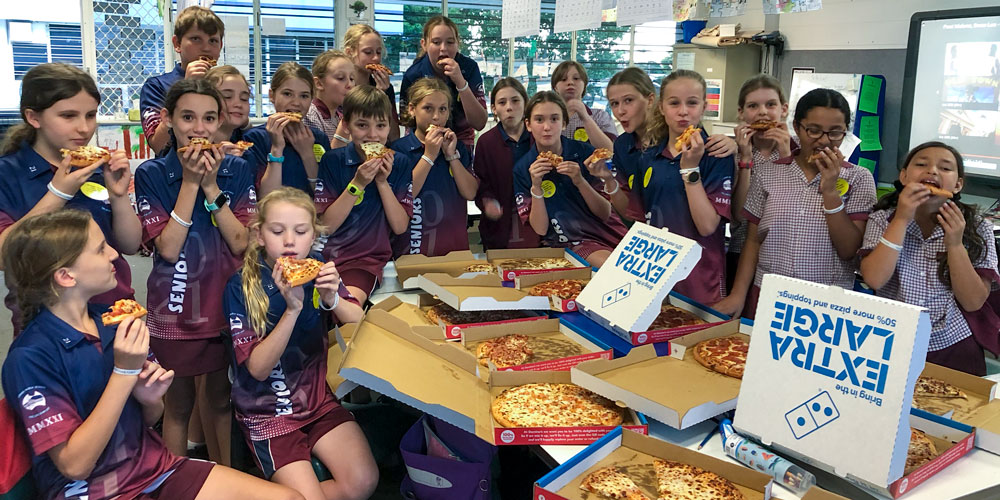 Just as the tummy rumbles were getting to be too much, the clock struck 5:30 meaning it was time to celebrate and not a moment too soon!
$500 will be sent to MongoliAid for the critically endangered Gobi Bears. This organisation is run by a local Cairns radiographer, Barry Jiggins and 100% of the donations go directly to pay for the emergency transporting and purchasing of feed for the Gobi bears in the sparse Gobi Desert. These are one of the most endangered species in the world with only between 35 and 40 bears left.
On top of the $1400 raised through the famine, the students also raised another $100 by selling fairtrade chocolate. All in all, this wonderful effort is extremely appreciated by the Salesian Missions Office Australia, who congratulate and are inspired these fine young leaders on their incredible effort to make the world a better place!