Salesian Missions Australia has launched an Emergency Appeal to aid our Salesians of Don Bosco in Aleppo, Kafroun and Damascus, the worst affected areas in Syria.
Dear Salesians and Friends,
I'm sure you are all aware of the earthquake in Turkey and Syria that has devastated thousands of lives this week.
The Salesians have been active in Aleppo, Syria, since the beginning of the war – almost 12 years ago, and are now moving quickly to mobilise support for those affected by the Earthquake which struck overnight on February 5-6.
Fr. Alejandro Leon shared that in Aleppo, one of the hardest hit areas, that thankfully the Salesian's buildings had only suffered minor damage and that families had taken refuge in the Salesian house, arriving with only the clothes on their backs from their homes already affected by the war – the Salesian house is seen as place of safety.
Local Salesians have shared that while they come to terms with the reality and put in place a proposal for systematic support to occur, already many people have started gathering in the Salesian house in Damascus to support their neighbours, bringing food, clothes and other basic needs to be sent to those taking shelter with the Salesians in Aleppo. The Salesians on the ground are also working to find ways for Syrians living abroad to support efforts in Aleppo.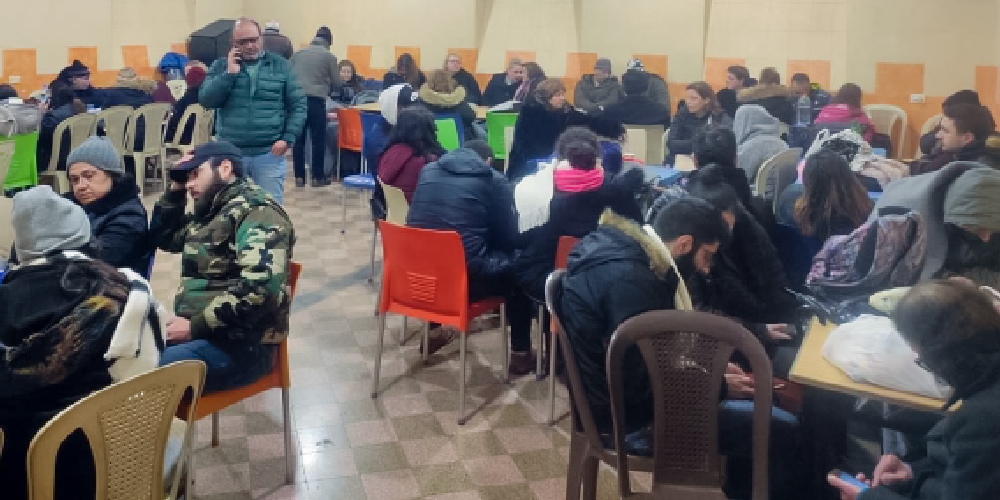 The Salesians have lept into action to all they can for the suvivors of the devistation
I just wanted to update you on the Salesian response effort that has commenced. The Salesians have decided as a congregation to concentrate on the area's in Syria where they are present and that have been impacted mainly Aleppo, Kafroun and Damascus. Fr Alejandro with the support of the PDO are currently assessing the needs and the intervention required.
Not all areas have been impacted as greatly as Aleppo however together they are all co-ordinating the relief effort. As you can imagine they are facing numerous issues to an area that has already been impacted through war including sourcing goods and supplies but with the help of the Salesians in Europe they will be working through these challengers.
We are inspired by the brave words of Zeina Chahoud, an youth animator with the Salesiansin Aleppo
""After the earthquake, hundreds of people went to the oratory fearing new tremors and damage, by evening there were about 450 people, half of them are children and elderly. Everyone tried to give a hand, helping with the distribution of blankets, food, drinks. The animators spent all day and night comforting and standing beside so many frightened children. No one spoke of anything else beside the earthquake, sharing their fears, but being with the Salesians gave hope and comfort to everyone who were there. "
Already the Salesians in the affected communites around Syria are doing so much to help the people who are in need of it most. With your support, they will be able to reach so many more with life-saving emergency rations, medical supplies, warm clothing and blankets.
We share our heartfelt gratitude to all those who have already contributed or enquired how they may support the relief effort, it has already been a source of great hope for those responsible for co-ordinating the relief effort within Syria
To help support refugees you may wish to donate to the Salesian Missions Australia via our website Ukraine Emergency Relief Fund or contact our office on 03 9377 6060 or mail your donation to Salesian Missions Australia, P O Box 264, Ascot Vale, Vic 3032.
Donations are tax deductible. Find out more here
Tina Newton
Director
Salesian Missions Australia
Please note that the Australian Salesian Missions Overseas Aid Fund (ASMOAF) is a registered fund owned and operated by the Salesian Society (Vic) Inc. All donations for Emergency Relief and Development is tax deductible. Salesian Missions Australia is a member of the Australian Council for International Development (ACFID) and subscribe to its Code of Conduct and registered with The Australian Charities and Not-for-Profit Commission (ACNC).
The Australian Salesian Overseas Mission Aid Fund takes your privacy very seriously. To read our policy pertaining to your privacy, click here. All of our other policies are available here.