The Horn of Africa is a geopolitical region in Eastern Africa, so named for the distintive shape the Somali Peniusla makes. It is a region rife with conflict, leading to countless displaced peoples.
Salesian Missions Australia has launched an Emergency Relief Appeal for the Horn of Africa, where the Salesians of Don Bosco (SDBs) are providing access to food relief, education, basic necessities and agriculture programs.
Currently, SDBs and their collaborators are located in the State of Tigray (Ethiopia), Palabek Refugee Settlement (Uganda), Juba (South Sudan), and Goma (the Democratic Republic of Congo) – all of which are part of the Horn of Africa and Central Africa where the severity of food shortages has recently increased and the number of Internally Displaced People (IDP) continues to swell as conflict uproots the lives of many. In Tigray, the Salesians have reached some 3000 families, distributing food and repairing damaged schools and churches that currently house many families.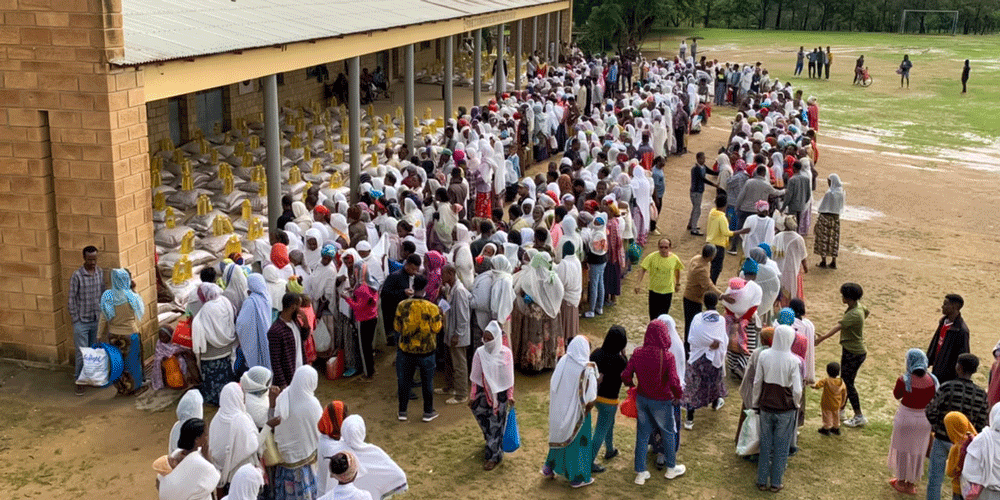 People gather to recieve life-saving supplies in Tigray
With the on-going unrest in the north of Goma in the Democratic Republic of Congo, thousands of people have flooded the city occupying the playgrounds surrounding the Don Bosco Ngangi Youth Centre. Families and the elderly were visibly tired and distressed as they seek food and shelter. Trees on residential and the Don Bosco properties were cut down to provide shelter and used for cooking. The Salesians are working in solidarity with the local residents to assist the IDP who have no choice other than to leave their lives behind.
Located 30km from the border of South Sudan in Uganda, Salesians reside within the Palabek Refugee Settlement and have recently been instrumental in finding ways to supplement decreasing food rations available for the World Food Program. With more than 76 000 refugees within the community and a hive of activity at the camp's Vocational Training Centre, there is now 92 acres of Maize, Soya Bean, and Sunflower Crops that are attended to by 25 agriculture groups. Fr. Uba says 'the agriculture groups are very important because they enable those involved to contribute to their families, supplement food rations and restore dignity'.
Beyond necessities and nutrition, the Salesians are also seeking to meet the human needs of those who have been displaced. In Juba, South Sudan, approximately 4000 children access primary and secondary schooling, as well as a Vocational Training Centre. In addition to providing access to education, the Salesians are also active in providing women's programs and sports programs for children in the camp.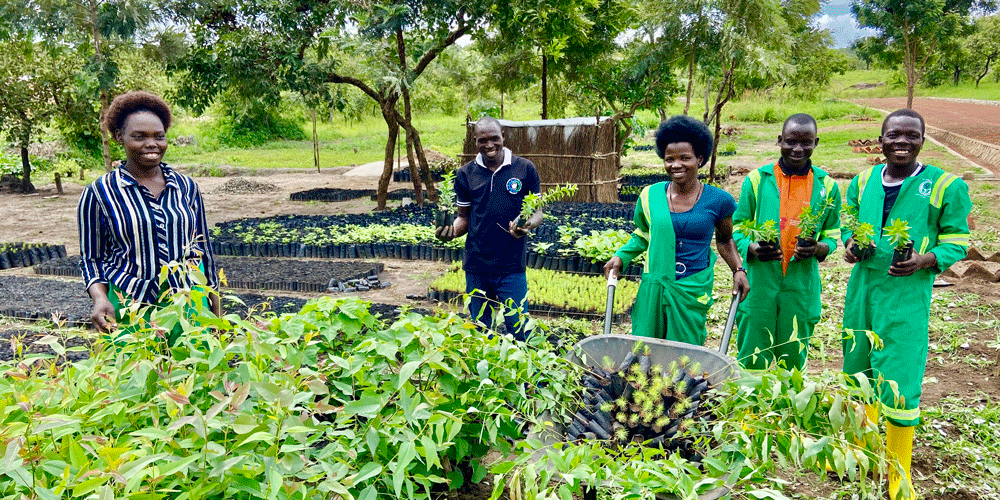 Maize cannot be eaten without processing, so the contribution by Salesian Missions to purchase a Maize Huller and Maize Miller, has been vital in aiding the food crisis.
With many of these realities of conflict and uncertainty having persisted for some time now, the Salesians continue to pivot and work with local communities to address the most pressing needs. Salesian Missionary in Palabek, Fr. Uba, says 'the young people of the refugee camp are hungry for an education that allows them to offer their families a better quality of life and to contribute to the reconstruction of their country'.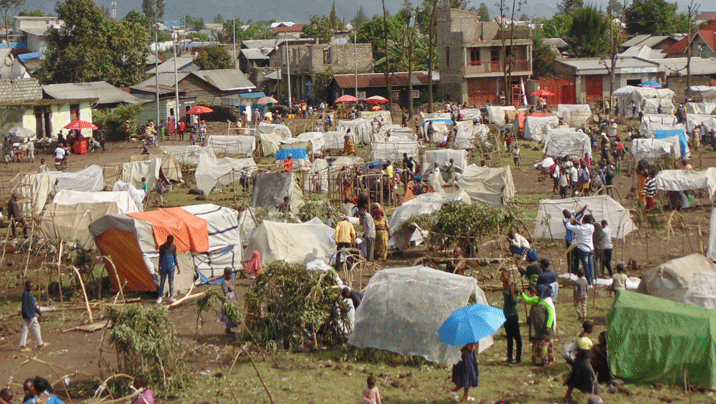 A camp of displaced people spontaneously arose around the Salesian work "Don Bosco Ngangi
On Tuesday, Nov. 8, 2022, several hundred families, totaling several thousand people, from the area north of the city of Goma, occupied all the playgrounds surrounding the youth center of the Salesian work "Don Bosco Ngangi."
They are men, women, children, and young people who are visibly depressed, tired, hungry, altered, and traumatized, fleeing the combat zones in Rutshuru Territory, North Kivu Province; seeking some peace and security, they have spontaneously set up a vast camp for displaced people in the center's three sports areas and on the fields of neighboring communities.
After spending the first two weeks of their escape at shelter sites in Nyiragongo territory, about ten kilometers north of Goma city, they have now moved onto Salesian land in Ngangi.
Seemingly arising from the earth itself are makeshift shelters, even if inadequate to meet their real needs, and very uncomfortable. In fact, there are no latrines, no drinking water, no food, no firewood. During the first day of their stay on the Salesian site, about thirty trees were cut down to obtain wood to build more stable shelters and wood for cooking. In addition, about ten food plantations of local residents were invaded, which were therefore also damaged.
The dire situation of these people has prompted the Ngangi community to raise everyone's awareness to act in a spirit of solidarity and support. Fr. Jean-Pierre Muhima, Rector of the "Don Bosco Ngangi" work, during the Salesian "good morning" message yesterday, November 8, appealed to the entire school community to show solidarity with the displaced people who have had to leave their lives behind them because of the war, despite the difficulties they too are suffering.
The first gesture of solidarity to which all students have been invited is to each bring a piece of soap to school, so as to help alleviate the hygienic problems of the displaced people living in the "Don Bosco Ngangi" complex.
With thanks to the Jambo Vijana newspaper for this story.
OUR URGENT NEED is to assist the Salesians of Don Bosco who offer food, shelter, clean water, medical, hygiene supplies and a safe place to stay.
Donations are tax deductible. Find out more here
Tina Newton
Director
Salesian Missions Australia
Please note that the Australian Salesian Missions Overseas Aid Fund (ASMOAF) is a registered fund owned and operated by the Salesian Society (Vic) Inc. All donations for Emergency Relief and Development is tax deductible. Salesian Missions Australia is a member of the Australian Council for International Development (ACFID) and subscribe to its Code of Conduct and registered with The Australian Charities and Not-for-Profit Commission (ACNC).
The Australian Salesian Overseas Mission Aid Fund takes your privacy very seriously. To read our policy pertaining to your privacy, click here. All of our other policies are available here.