On Tuesday, Nov. 8, 2022, several hundred families, totaling several thousand people, from the area north of the city of Goma, occupied all the playgrounds surrounding the youth center of the Salesian work "Don Bosco Ngangi."
They are men, women, children, and young people who are visibly depressed, tired, hungry, altered, and traumatized, fleeing the combat zones in Rutshuru Territory, North Kivu Province; seeking some peace and security, they have spontaneously set up a vast camp for displaced people in the center's three sports areas and on the fields of neighboring communities.
After spending the first two weeks of their escape at shelter sites in Nyiragongo territory, about ten kilometers north of Goma city, they have now moved onto Salesian land in Ngangi.
Seemingly arising from the earth itself are makeshift shelters, even if inadequate to meet their real needs, and very uncomfortable. In fact, there are no latrines, no drinking water, no food, no firewood. During the first day of their stay on the Salesian site, about thirty trees were cut down to obtain wood to build more stable shelters and wood for cooking. In addition, about ten food plantations of local residents were invaded, which were therefore also damaged.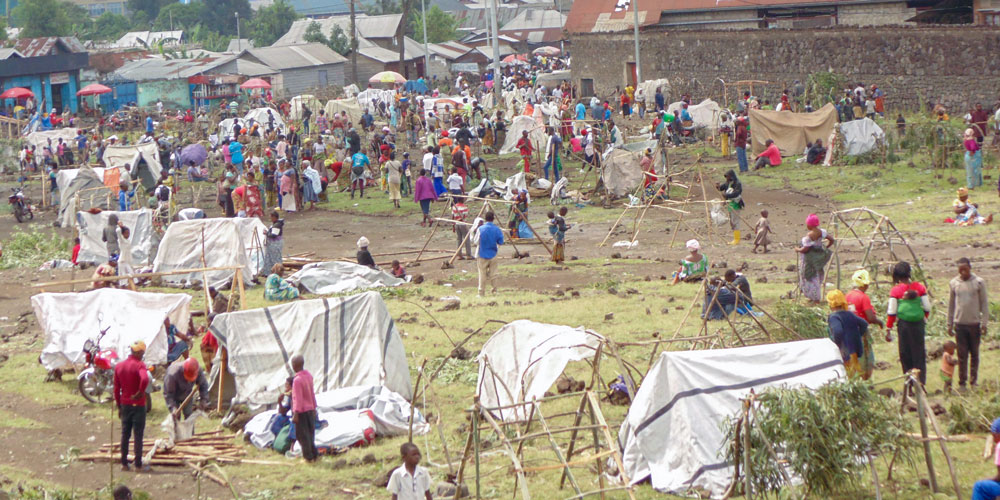 The dire situation of these people has prompted the Ngangi community to raise everyone's awareness to act in a spirit of solidarity and support. Fr. Jean-Pierre Muhima, Rector of the "Don Bosco Ngangi" work, during the Salesian "good morning" message yesterday, November 8, appealed to the entire school community to show solidarity with the displaced people who have had to leave their lives behind them because of the war, despite the difficulties they too are suffering.
The first gesture of solidarity to which all students have been invited is to each bring a piece of soap to school, so as to help alleviate the hygienic problems of the displaced people living in the "Don Bosco Ngangi" complex.