On Monday 5th of April, Timor-Leste was struck by severe flooding, only adding to the worries already present after the country recently entered a fresh lockdown after news of a severe new COVID-19 outbreak.
Torrential rain has sparked widespread destruction in Timor-Leste, causing devastating flooding and landslides that have claimed the lives of at least 100 people. Many are still missing, and roads, bridges and houses have been laid to waste in the capital of Dili, which is still very much underwater.
The Salesian Community of Don Bosco Comoro and some of other religious communities in Dili have lept into service, offering their facilities such as the gymnasium and classrooms as a place of shelter and triage, accommodating the thousands of Timorese that have been left homeless.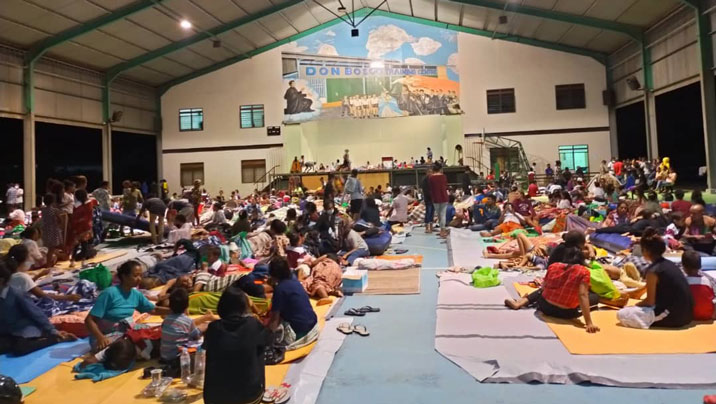 Displaced persons huddle together to shelter from the elements
Currently, there are over 600 households and 3000 individuals who have registered as needing support in Comoro. Among these are many vulnerable people, including those living with disabilities, pregnant women, children and elderly.
In the last two days, there has been a great outpouring of kindness and generosity from around the Salesian family and other NGO's, however, still more is needed. Tina Newton, director of the Salesian Missions Overseas Aid Fund reports that there is still an urgent need for food, clean water and medicine.
Timor-Leste, Australia's closet neighbour is the poorest country in South East Asia and any donations towards this lifesaving cause a greatly appreciated, as well as being tax-deductable.